Procemex Reporting engine is a user-friendly, and powerful reporting solution for various types of web monitoring and inspection reporting needs. Procemex Reporting Engine enables you to quickly create, customize, and export inspection reports.
Customized, well visualized, and easily exportable web inspection and monitoring reports empower you to make informed decisions, improve product quality, and streamline your production processes.

The Procemex Reporting Engine is a web browser-based tool, that provides both easy and secure access without the need for external software installation. As an integral part of the Procemex Web Monitoring and Inspection System, this reporting tool empowers mill operators and production managers to effortlessly generate insightful reports that provide invaluable insights into your production process.
Customizable Reports with Better Graphical Possibilities
One of the standout features of the Procemex Reporting Engine is its exceptional level of customization. You can tailor your reports to meet your specific needs and preferences. Whether you need to focus on reel details, defect maps, formation, defect details, ATC reel targets, or daily and monthly summaries, this reporting tool can handle it all. The flexibility it offers allows you to create reports that are truly tailored to your requirements. We here at Procemex can also make this report customization for you. Just contact our service sales!
The Procemex Reporting Engine also includes great graphical possibilities. Visualize your data with images, graphs, charts, and diagrams. These visuals make it easier to understand and interpret complex data.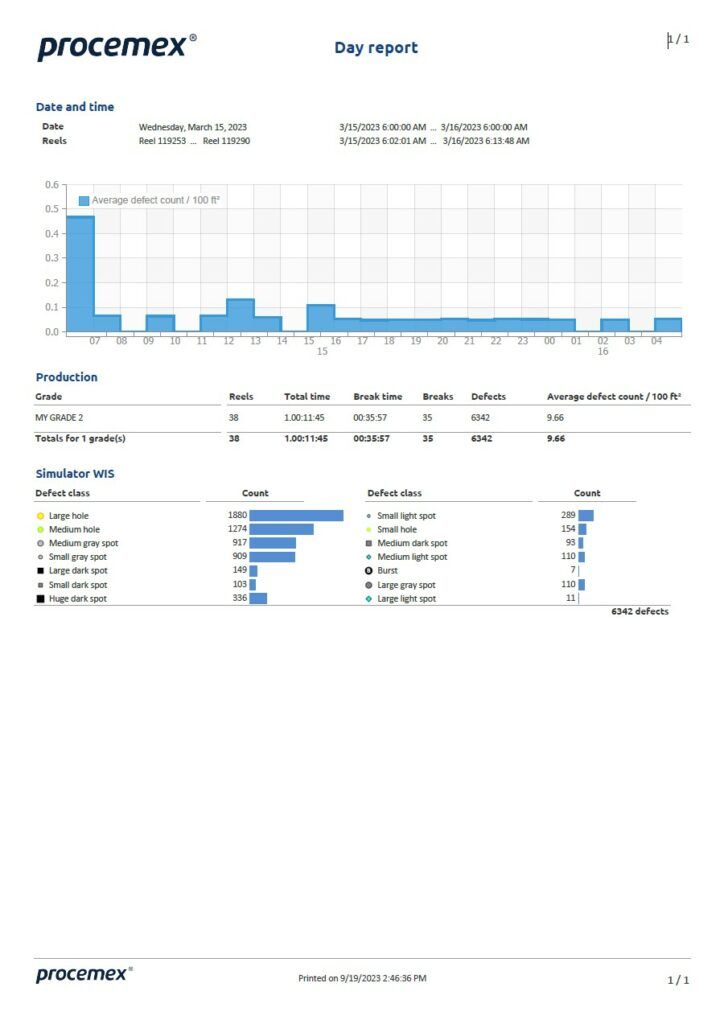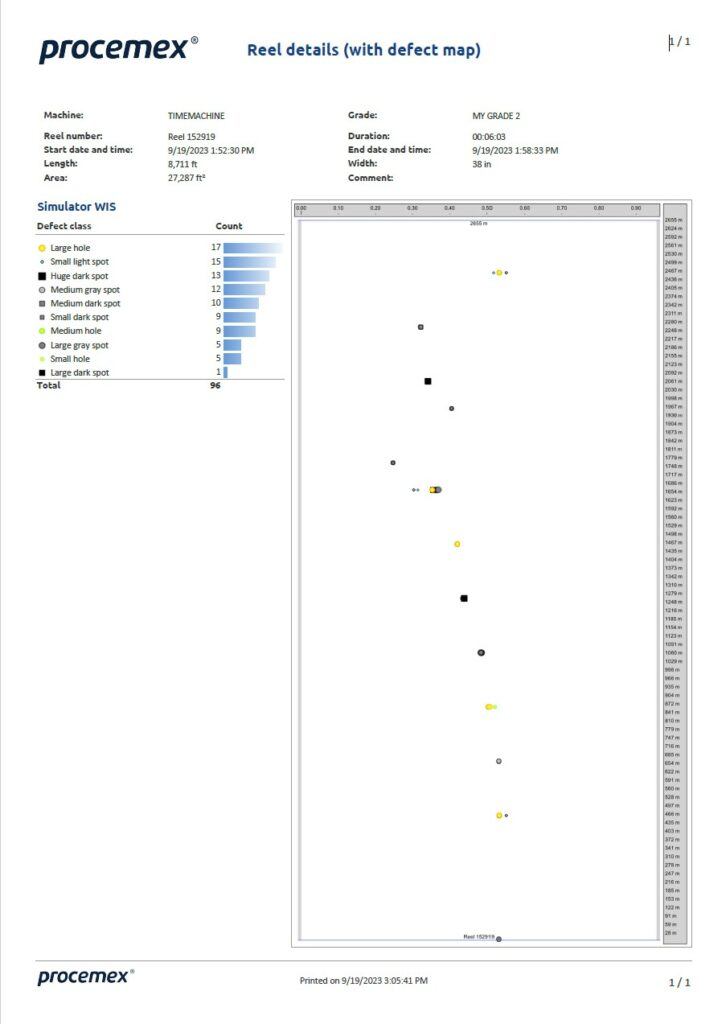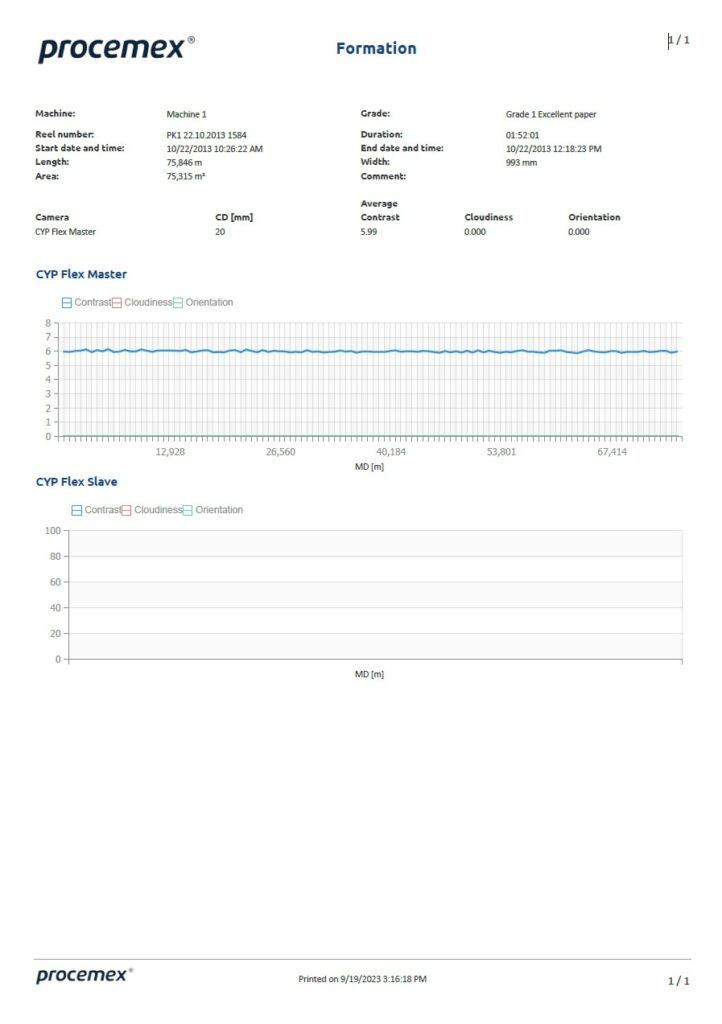 Seamless Export to Standard File Types
Efficiency is at the core of the Procemex Reporting Engine. Once you've created your customized report with all the essential details and well visualized graphics, you can effortlessly export it to standard file types. Whether you prefer PDF, Excel, Word, or other common formats, this reporting tool has you covered. Exporting your reports to these formats makes it easy to share with colleagues, superiors, or other stakeholders, supporting decision-making and ensuring everyone stays informed and on the same page. You can also easily share these reports using a secure shared document link.
Reports that Cover Every Aspect of Web Inspection and Monitoring
The Procemex Reporting Engine is designed to meet the diverse reporting needs of mill operators and production managers. Here are some of the key report types you can effortlessly prepare:
| | |
| --- | --- |
| Reel Details | Get a comprehensive overview of your production reels, including critical information about their quality. |
| Reel Details with Defect Map | Visualize the exact locations of defects on your reels, providing valuable insights for quality control. |
| Formation | Understand the formation of your materials, helping you identify potential issues and optimize your processes. |
| Defect Details | Create a summary of defects, aiding in root cause analysis and corrective actions and making comparisons. |
| ATC Reel Targets | Stay on track with your ATC (Automatic Target Control) reel targets, ensuring consistent and high-quality output. |
| Day Report | Get daily summaries of your web inspection data, facilitating real-time decision-making. |
| Month Report | Gain a broader perspective with monthly reports, ideal for performance analysis and long-term planning and comparison analysis making. |
Web Inspection Reports
Maintenance
• Camera information
• Server information
Export Lists
• Analysis auto trigger
• Analysis Twin alarms
• External trigger
• Reels
• Splice
• Web breaks
• Customer specific
Web Monitoring Reports