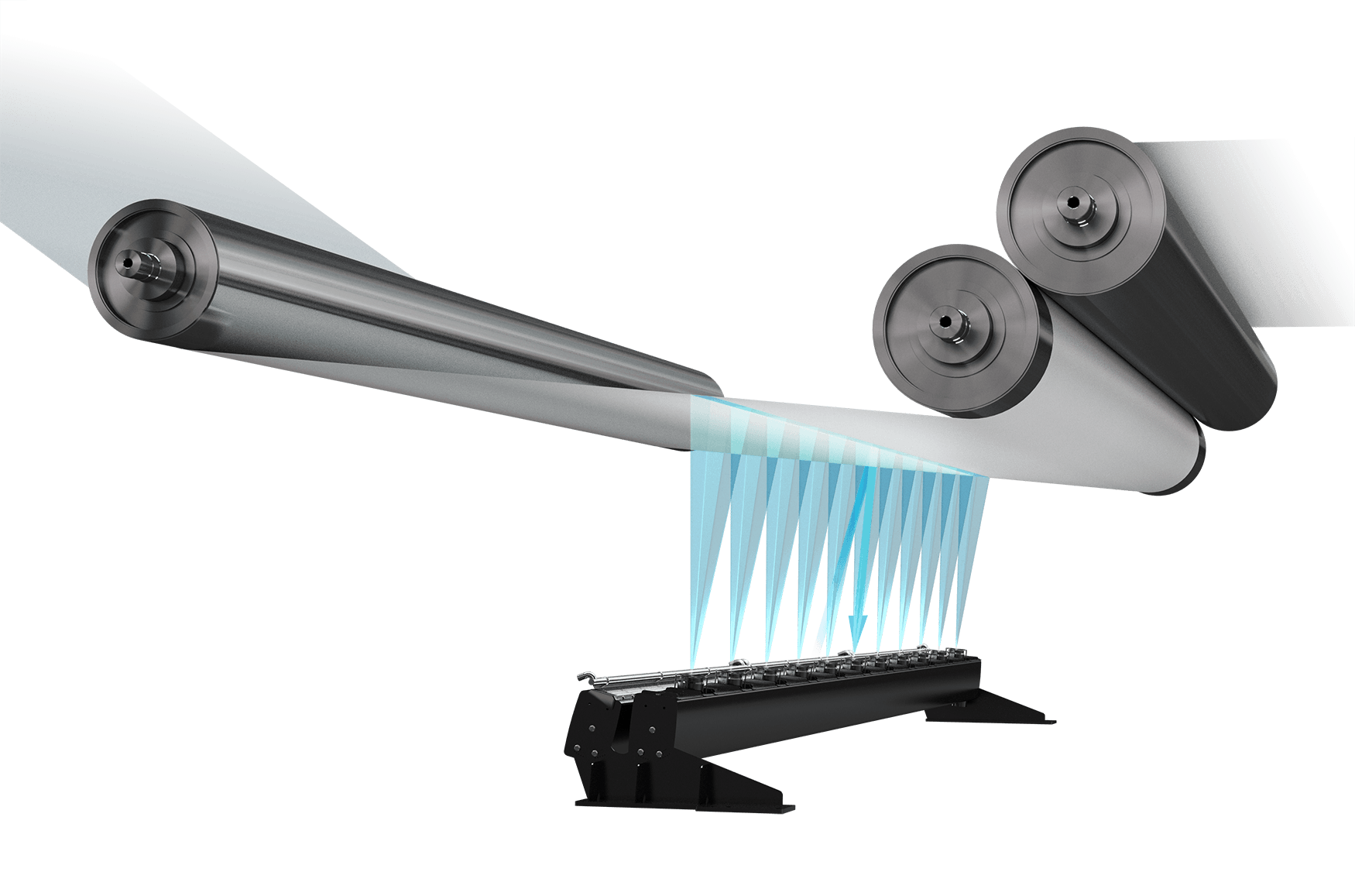 Frames in Pick-up Web Inspection
Pick-up web inspection is creating  full width press section visibility over web break and paper defect root causes.
Carbon fiber beams are designed, engineered and constructed specifically for the purpose of absorbing machine-induced vibration. They are sturdy enough for the widest, over 12m wide machines in the world. The camera and strobe LED illumination modules are cooled by blown air through the camera and light beams.
Camera and light beams support different inspection geometries, starting from simple transmission or reflection measurement extending to complex top and backside multi-illumination measurements.
Compact smart cameras inside the camera beam
100% visibility with pinhole cleaning – no moving parts
Both web monitoring and web inspection functionality available
Continuous visibility over time as no wearing protection window

No electronics cards or power supplies inside the beam
Key Features
Smallest size & lightest weight in the market (H270 x W190 mm)

Eliminates machine-induced vibration

U-shape camera and light frame give flexibility with moveable camera fixture

Smallest size frames in the market– fits easily into tightest locationsNo vibration even with widest frame widths up to 12 meters
Possibility to add/reduce cameras afterwards
Easy service with running machine / no electronics inside beams
No breaking glass – innovative Teflon foil for LED module protection
Both Web Inspection & Web Monitoring functionality available: Chemical resistant material – Carbon Fiber
100% visibility with pinhole camera cleaning: Continuous visibility without any moving parts
Compact size and light weight: A preferred solution for existing machines with limited space and easy installation
Specification
Water tight design

Corrosion-proof materials
Pinhole cleaning for cameras
Water cleaning for light frame
Smallest size in the market (H270mm x W190 mm)
Weight 20 kg per meter including equipment

Average LED light power consumption 10 W / meter

Average motor cooling air consumption 4- 6m3/min per beam (500 Pa)