Code Marking
Paper length is "barcoded" at the edge of  paper sheet with high precision and optional mark verification.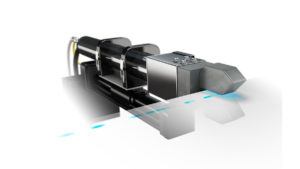 Absolute length code mark enables transfer of inspection data between different manufacturing steps
Sometimes it is necessary to encode intelligent information into a moving web at high speeds. The most common information encoded is that of incrementing length or footage. Other information that can be encoded relates to roll-ID or lot numbers. The encoded information entered at high speeds is "read" and decoded downstream and used for process control.
High precision distance encoding and reading is applied in different manufacturing steps to enable accurate positioning of defects on defect map and to enable automated or manual off-spec paper rejection
Codes can pass critical roll information to downstream processes
Defect removal process is automated
Procemex software includes built-in error checking
Features automatic self-cleaning
Features automatic edge position recognition
Code verification carried out with a separate camera & light unit after marking position
Key Features
Enables automated re-reeler and winder stop features
Increases production line throughput
Code verification ensures perfect availability
Provides absolute sheet position regradless of slab-off and shrinkage
Fast code reader cameras enable small code size and low ink usage
Enables automated re-reeler and winder  stop features
Successful encoding up to 2000/m/min , 6500 ft/min
Small mark size and ink usage keep environment clean