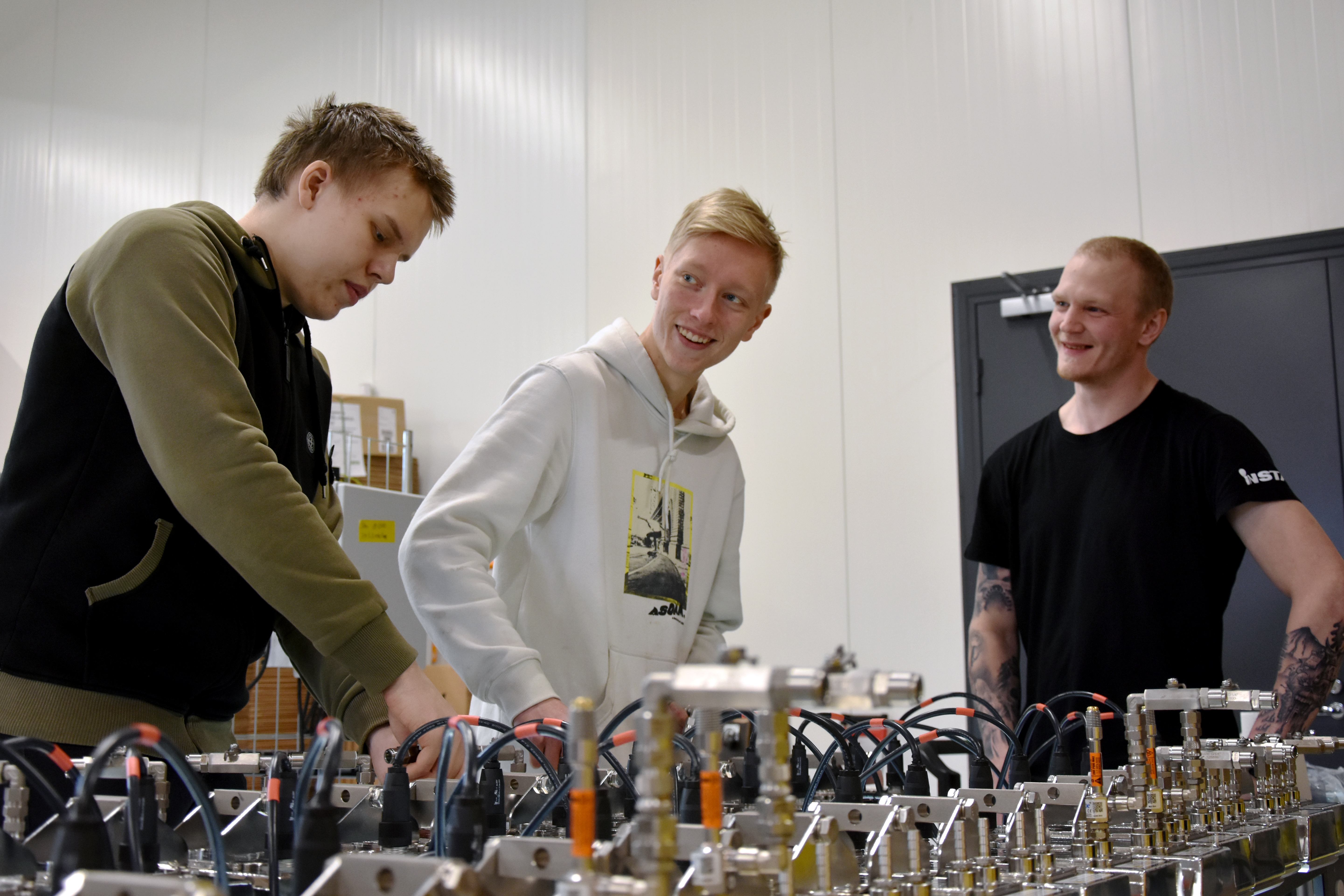 Procemex partners with educational institutions to pilot a new learning environment at production
Procemex is piloting a new kind of learning environment together with Insta Group and Finland's largest educational consortium, Gradia. This marks a new kind of collaboration between the company and an educational institution, as there are both job coaches and a teacher present in the workplace.
The collaborative learning environment will give students the opportunity to spend a year in on-the-job learning at Procemex's production facilities at Etelaportti, Europe's most modern digital services hub for the manufacturing industry.
Procemex and Insta Group operate in close collaboration and have been providing on-the-job training for Gradia students for a number of years – and with Procemex since 2006.
"Cooperation with educational institutions has been rewarding on both sides. We've also turned our work-study students into good employees later on", says Vesa Luhtamaki, Insta Group's Production Manager.
The learning environment currently being piloted takes collaboration to the next level. The core values of the project are quality and tranquility. The learning environment will be designed with various workstations where students can accumulate skills in stages. The variety of workstations allows learners to practise in different ways and at their own pace. The tasks are designed to allow learners to complete, for example, electronics assemblies from start to finish.
"Students get a different perspective on the significance of their work when they know that a particular camera, electrical panel or other component they've worked on is going to a customer on the other side of the world", says Tuija Ylonen, Procemex job coach.
Insta's job coaches, Henri Maensivu and Riikka Kaikkonen, agree: "You get a concrete picture of how the work went and get quick feedback. The students learn immediately that quality work is required for genuine client projects. From our point of view, it's important that they learn certain essentials and routines so that the transition to a potential trainee position is smooth for both the student and Insta."
One important objective is to provide learners with the experience of actually being at work. During the pilot, the group works together to create rules and an environment that isn't like school. Unlike a regular training agreement, the production learning environment takes a larger group of learners at one time, with teachers and company job coaches also present. At Procemex and Insta, management and supervisors get involved in supporting the work of job coaches.
"Well-planned instruction brings quick results – the trainee learns the ground rules and their work starts to flow", says Procemex Job Coach Tuija Ylonen. "A job coach is expected to have the attitude and willingness to provide instruction – a certain enthusiasm for the job." Job coaches are eager to deepen their skills by studying for a specialised vocational qualification in product development at Gradia.
"This is a place for teachers to learn, too. Let's create something new and make genuine products", says Gradia teacher Jukka Jokinen.
"This new learning environment, built in partnership between two companies, is a really great opportunity for the students. Teachers' workplace skills will be further strengthened also. Procemex production learning site is being constructed at a rapid pace and will offer diverse business cooperation and new work-study opportunities for other educational fields in the future", says Jaana Virtanen, Programme Manager, Gradia.
Procemex Oy
Procemex is an international market leader in providing machine vision systems for the paper, pulp and printing industries. Procemex specialises in the design and manufacture of smart cameras and lighting solutions for web monitoring and inspection. Procemex Oy is headquartered in Jyväskylä, with product development in Tampere and subsidiaries (sales/projects) in the USA, Japan and Germany. The firm employs over 50 people.
Procemex Oy was established in 2000. Procemex systems have been delivered to over 900 sites in over 50 countries.
Insta Group Oy is an expert in industrial automation, industrial digitalisation, cyber security and defence technologies that helps customers develop and maintain their performance and profitability. Insta is a Finnish family business that serves customers in demanding fields by providing them with innovative technology and service solutions.
Gradia is known for high quality education in Finland and abroad. The completion of upper secondary education, both general and vocational that we provide, gives students eligibility to higher education and competences for working life. Gradia has concluded numerous successful projects all over the world. Gradia is the first in Finland to provide accredited Finnish vocational and professional qualifications abroad. Furthermore, Gradia exports their expertise in entrepreneurship, pedagogical training, developing curricula and learning environments in addition to assessment in education in co-operation with our partners. Gradia Global Partnerships is working together with EduCluster Finland and Gradia Education Services Ltd.